In-between

Web Design, Moving Image, Type Design, Photography
MA Thesis Project
Royal College of Art, London
2021


Inbetweenness trouble, begs questions, perplexes. The exploration of inbetweenness has similar ambitions; seeking, through its engagement with things, to reflect on the arbitrariness of seemingly self-evident categories; valuing ambiguity over false certainty.
— Paul Basu, The Inbetweenness of Things: Materializing Mediation and Movement between Worlds


I invite you to explore this in-betweenness with me. Where narratives share contemporaneity. Where the hybridity of language is expressed through form. Where transitory materials dictate the outcome.
To know more about this project and participate in this journey, visit
https://in-between.xyz
.

On Identity

Moving countries of residence is an exciting yet daunting process. Personally, the imagined ideal of living abroad to living abroad were extremely different experiences. As an individual, who spent most of her life in a country like India, where family units and societal structures and norms hold huge sway over our life and decisions every day, moving into a Western country like the UK where individualism is celebrated and practiced, was a completely new experience and I still believe is a transient process.

The journey of acknowledging this transition was challenging. On some occasions, it was internal turmoil, a series of ineffable emotions. On others, it was discovery of fragments of myself.

I decided to look deeper into this notion of An Identity In-between.


My grandfather's images from 1969-71, from the time he lived in Germany
I hoped to find familiarity. Cues to identify myself in them.
Conversations with my contemporaries
I asked them about their notions of identity, home, familiarity and in-betweenness.
They spoke about tensions between displacement and belonging, a rather continuous process of unlearning and learning.
Stills from my film In-between. An Entity. An Identity.
Click on the image above to be directed to this project

On Colour+Film

Colour has been central theme for research and experimentation in my practice. Through this project I wanted to explore the context of colour through the material of analogue film.

I became curious about this material while investigating my grandfather's photographs. Film embodied the mark made by light and the conditions in which it had aged added to these slides, altered the film in many unexpected ways, strikingly in its colour.

This project began as the lockdown restrictions eased. It was an indulgence into the material world to discover through the processes of making. A relief/ an escape from the zoom classrooms and the digital interfaces. A process to discover the in-betweeness of the interactive processes between colour, light and film.


Materials/objects required to begin the process in the dark rooms
Frames of the video
Demonstrating the process of making C-type prints in the darkroom.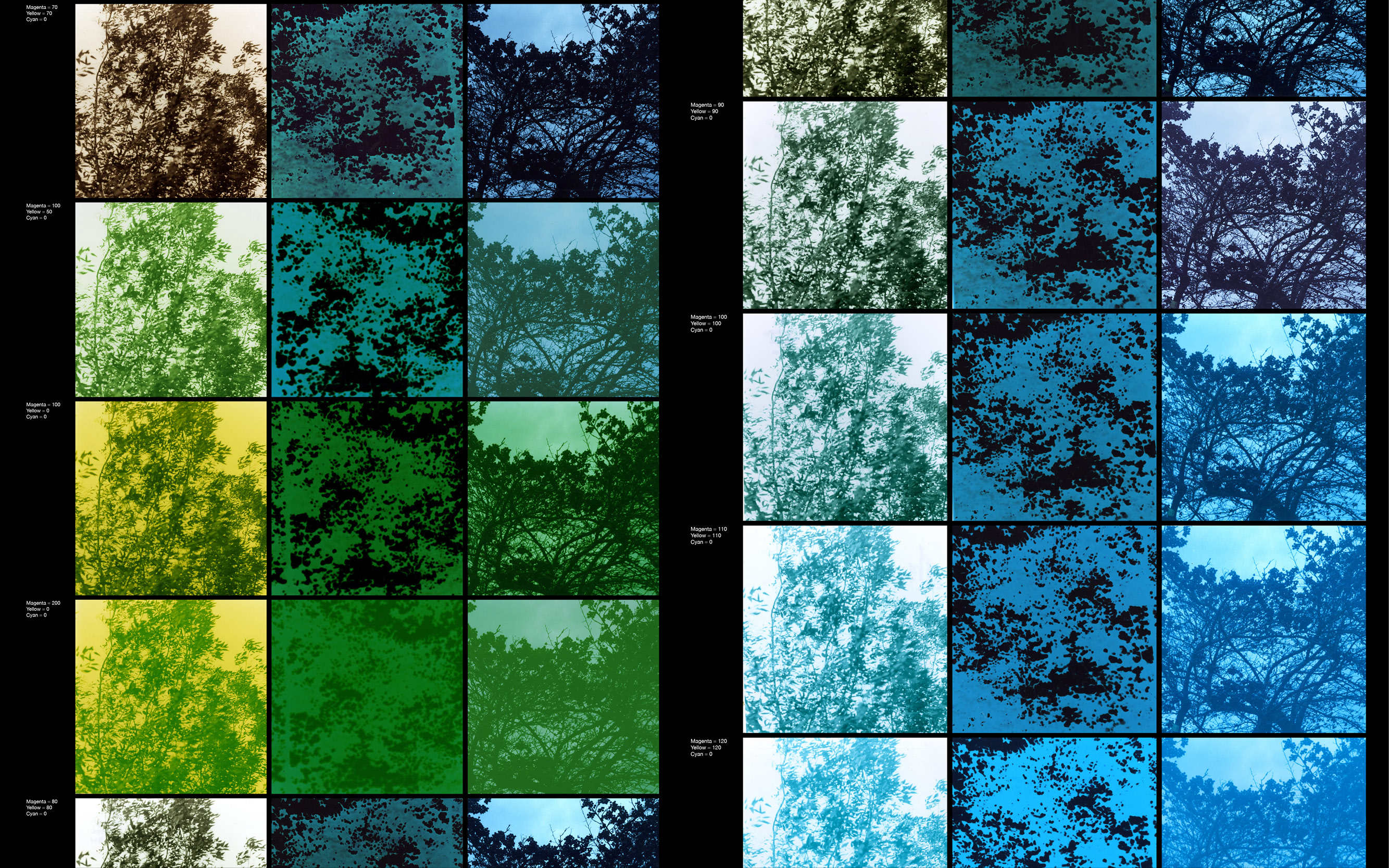 Outcome/Process
Discovering the spectrum of colour through this analogue and repetitive technique.
The process is the outcome. Documentation for reference and discovery.
In Print
An artist book documenting all the prints developed during the process.
Colour+film: A project exploring colour through the material of filmClick on the image to be directed to this project